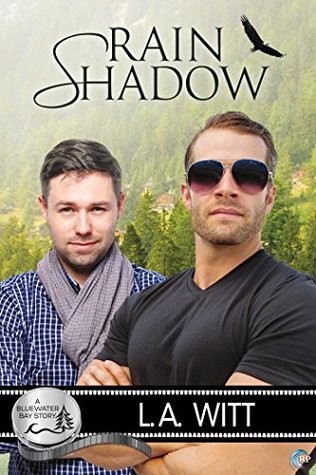 I liked this book but I can't say I loved it. I think I needed to get more than just Jeremy's POV, or maybe I needed more "happy moments" and for them not to be just about having sex with Scott.. I was thinking this book is "depressing" but how can I say that after reading "The Deep of the Sound" (the 8th installment)? Here it's different, the issues Jeremy is dealing with mostly has to do with his dysfunctioning family, the one he left and expected to "solve itself" while he is far away. Yeah, it wasn't working..
Jeremy is Anna Maxwell's
bodyguard (
the producer of "Wolf's Landing"). As she works long hours so does he, leaving him very little time to himself (even though he does enjoy her company and they ARE sort of friends). On a day off with her and her partner Leigh he meets Scott who really intrigues and attracts him. Both being in their early 40s they are no kids, which also means they know what they want, what they can have and what they CAN'T have. After a very hot first sexual encounter they strike a deal. A sort of friends with benefits, starting more about the benefits, and continuing on to real friendship with a lot of benefits.. As time goes by, we can see how much Scott means to Jeremy even if he shuts down every thought of anything meaning more than "friendship" or "sex", it's unclear about how much Jeremy means to Scott beyond that, but it's obvious he DOES care about Jeremy, enough to be worried about his profession being dangerous...
They both have their reasons to staying single. Jeremy has enough angst with his family, he can't deal with anything more and he is filled with guilt about everything as it is... Scott had a meaningful relationship with a cop years ago and he vows never to have one like that again. Jeremy's profession is problematic for him. Yet it's obvious the boundaries are becoming flexible as they keep on meeting.
The instances with Jeremy's family were frustrating for me. ALL the blame was ALWAYS on Jeremy, even when his wife was being "supportive". Hey, you married the guy too! You've been with him for 14 (!) years if you didn't know something was wrong, it means you are either blind or choosing to be.. I'm sorry, it takes two for a relationship and while his wife isn't at fault for Jeremy not realizing (or admitting to himself) he is gay, they could have figured it out differently. But I think the fact even his wife saw him as the guy "who has to go", made it easier on him to actually do that - GO! And then it's no wonder his kids don't want him around anymore(?). Mostly his daughter which was a really angsty teenager. Scott (a couples' counselor) was trying to help but Jeremy was apparently at a teenagery stage himself not wanting to actually DO something to change their family situation. I was very frustrated with him (as was Scott). Also for a romance novel, it took took much page time even though mostly about Jeremy's thought on the matter.
There was very little "romance" in this one. Sex, work, his heartache over his family and a little bit of friendship that ended being the romantic connection. I enjoyed the last few chapters because something was HAPPENING. Jeremy started DOING instead of WAITING. I liked him as a character but I think he was too cowardly and I can say the same about Scott. I was happy to see everything resolved the way it did. It felt very realistic. I just wanted MORE from this one...
This book was also a sort of introduction to Anna and Leigh dysfunctional relationship.. We've heard it before in the series how much they don't get along.. so finally the next installment is about Anna getting her HEA and it's not with Leigh..
Additional Details: Kindle Ebook, 200 pages, 8 December 2016 / On GoodReads