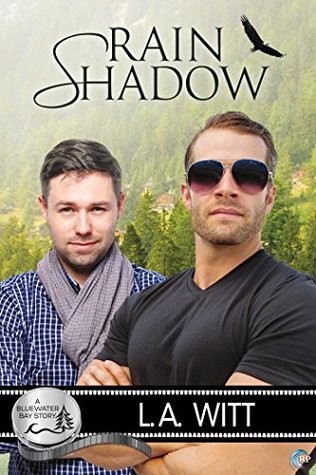 I liked this book but I can't say I loved it. I think I needed to get more than just Jeremy's POV, or maybe I needed more "happy moments" and for them not to be just about having sex with Scott.. I was thinking this book is "depressing" but how can I say that after reading "The Deep of the Sound" (the 8th installment)? Here it's different, the issues Jeremy is dealing with mostly has to do with his dysfunctioning family, the one he left and expected to "solve itself" while he is far away. Yeah, it wasn't working..
Jeremy is Anna Maxwell's
bodyguard (
the producer of "Wolf's Landing"). As she works long hours so does he, leaving him very little time to himself (even though he does enjoy her company and they ARE sort of friends). On a day off with her and her partner Leigh he meets Scott who really intrigues and attracts him. Both being in their early 40s they are no kids, which also means they know what they want, what they can have and what they CAN'T have. After a very hot first sexual encounter they strike a deal. A sort of friends with benefits, starting more about the benefits, and continuing on to real friendship with a lot of benefits.. As time goes by, we can see how much Scott means to Jeremy even if he shuts down every thought of anything meaning more than "friendship" or "sex", it's unclear about how much Jeremy means to Scott beyond that, but it's obvious he DOES care about Jeremy, enough to be worried about his profession being dangerous...
They both have their reasons to staying single. Jeremy has enough angst with his family, he can't deal with anything more and he is filled with guilt about everything as it is... Scott had a meaningful relationship with a cop years ago and he vows never to have one like that again. Jeremy's profession is problematic for him. Yet it's obvious the boundaries are becoming flexible as they keep on meeting.
The instances with Jeremy's family were frustrating for me. ALL the blame was ALWAYS on Jeremy, even when his wife was being "supportive". Hey, you married the guy too! You've been with him for 14 (!) years if you didn't know something was wrong, it means you are either blind or choosing to be.. I'm sorry, it takes two for a relationship and while his wife isn't at fault for Jeremy not realizing (or admitting to himself) he is gay, they could have figured it out differently. But I think the fact even his wife saw him as the guy "who has to go", made it easier on him to actually do that - GO! And then it's no wonder his kids don't want him around anymore(?). Mostly his daughter which was a really angsty teenager. Scott (a couples' counselor) was trying to help but Jeremy was apparently at a teenagery stage himself not wanting to actually DO something to change their family situation. I was very frustrated with him (as was Scott). Also for a romance novel, it took took much page time even though mostly about Jeremy's thought on the matter.
There was very little "romance" in this one. Sex, work, his heartache over his family and a little bit of friendship that ended being the romantic connection. I enjoyed the last few chapters because something was HAPPENING. Jeremy started DOING instead of WAITING. I liked him as a character but I think he was too cowardly and I can say the same about Scott. I was happy to see everything resolved the way it did. It felt very realistic. I just wanted MORE from this one...
This book was also a sort of introduction to Anna and Leigh dysfunctional relationship.. We've heard it before in the series how much they don't get along.. so finally the next installment is about Anna getting her HEA and it's not with Leigh..
Additional Details: Kindle Ebook, 200 pages, 8 December 2016 / On GoodReads
ABOUT THIS SERIES

Welcome to
Bluewater Bay
! This quiet little logging town on Washington state's Olympic Peninsula has been stagnating for decades, on the verge of ghost town status. Until a television crew moves in to film Wolf's Landing, a soon-to-be cult hit based on the wildly successful shifter novels penned by local author Hunter Easton.
Wolf's Landing's success spawns everything from merchandise to movie talks, and Bluewater Bay explodes into a mecca for fans and tourists alike. The locals still aren't quite sure what to make of all this—the town is rejuvenated, but at what cost? And the Hollywood-based production crew is out of their element in this small, mossy seaside locale. Needless to say, sparks fly.
This collaborative story world is brought by collective authors, each contemporary novel stands alone, but all are built around the town and the people of Bluewater Bay and the Wolf's Landing media empire.
Books:
1. Starstruck
By

L.A. Witt [Levi Pritchard & Carter Samuels]
(Published 3 November 2014)

★★★★
2. There's Something About Ari
By L.B. Gregg [Buck Ellis & Ari Valentine]
(Published 8 November 2014)

★★★★
★
3. Hell on Wheels
By Z.A. Maxfield [Nash Holly & Spencer Kepler-Constantine]
(Published 29 November 2014)

★★★★
★
4. Lone Wolf
By

Aleksandr Voinov

&

L.A. Witt [Hunter Easton & Kevin Hussain]
(Published 20 December 2014)

★★ (DNF 25%)
5. The Burnt Toast B&B
By Heidi Belleau & Rachel Haimowitz [Ginsberg Sloan & Derrick Richards]
(Published 11 January 2015)

★★★½
6. Lights, Camera, Cupid (Bluewater Bay #6) Valentine's Anthology
(Published 7 February 2015)
★★★★
[
Just Another Day

[Levi Pritchard & Carter Samuels]

by

L.A. Witt ★★★ ]
[ Nascha By Amy Lane ★★★★★ ]
[ No Easy Way [Cary Teijan & Dylan James] By
S.E. Jakes
★
★
★
★½ ]
[ Helping Hand [Lucas Wilder & Gabriel Savage] by Anne Tenino
★★★★★ ]
[
I'll Be There [Nash Holly & Spencer Kepler] By Z.A. Maxfield
★★ ]

7. Wedding Favors
By

Anne Tenino [Lucas Wilder & Gabriel Savage]
(Published 11 April 2015)

★★★★
★
8. The Deep of the Sound
By

Amy Lane [Cal McCorkle & Avery Kennedy]
(Published 13 June 2015)

★★★★
★
9. When to Hold Them
By G.B. Gordon [Doran Callaghan & Xavier Wagner]
(Published 15 August 2015)

★★ (DNF 49%)
10. Rain Shadow
By

L.A. Witt [Jeremy Rose & Scott Fletcher]
(Published 17 October 2015)

★★★
11. Stuck Landing
By

Lauren Gallagher [Anna Maxwell & Natalya Izmaylova]
(Published 12 December 2015)

★★ (DNF 38%)
12. How the Cookie Crumbles
By

Jaime Samms [Frederic Jackson & Blaire Caruthers]
(Published 13 February 2016)
★★★¾
13. Selfie
By

Amy Lane [Connor Montgomery & Noah Dakers]
(Published 16 April 2016)

★★
★
(DNF 51%)
14. All the Wrong Places
By Ann Gallagher [Brennan Cross & Zafir Hamady]
(Published 12 June 2016)
★★★½
15.
Bluewater Blues
By G. B. Gordon [Jack Daley & Mark Keao
]
(Published 15 October 2016)
★
★
★
★
★
16.
No Small Parts
By Ally Blue [Nat Horn & Rafael Cortez]
(Published 19 December 2016)

★
★
17.
For A Good Time, Call...
By Anne Tenino & E.J. Russell [Nate Albano & Seth Larson]
(Published 8 April 2017)
Though I enjoyed many books in this series, I'm not going to continue past the 17th. Firstly, this series, with so many different authors and different themes and at times sub-genres made the whole experience "bumpy". I had too many books I didn't connect with and I feel like it's going to stay this way with the authors who weren't my favorite. Secondly I feel a bit unsure about supporting this publisher considering its recent revealed "shade".