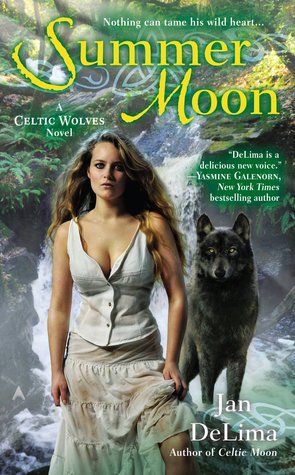 Oh, I enjoyed this one SO MUCH! Jan has a was with words, with romancing and with building such a complex world yet bringing us into it little by little in just the right way so we won't be overwhelmed. When I finished the first book I REALLY wanted to have my hands on the second one but more over I wanted the third one of Ellen and Cormack. After reading this one of Luc and Rosa I understand why this order was necessary and since it was such a JOY I couldn't put down I really can't complain! :)
I loved getting Luc and Rosa's love story and how they both fell for each other little by little with that single spark from the first second they touched. I don't like intsa-love books and usually when there is a beasty theme we get those. But here is was beautiful seeing the time it took them to respect each other, trust each other while all the while being VERY attracted to each other because of their wolves. So even though we have an animalistic theme here the love felt very genuine and based on "true feelings" that built throughout the book from their joined experience with one another. Luc IS an Alpha wolf but he was so sweet and gentle and naturally a total YUM! Rosa was something to behold. While she was submissive most of her life to her late husband she has a side she hid away and when it burst out of her we see she is one HELL of a woman! and a true match for Luc who isn't afraid or intimidated by a strong capable woman (double YUM for him!)
In the previous book Rosa helped save Sophie - Dylan's wife - who was taken by Rosa's Guardian husband. After her help Dylan owed Rosa a debt that she was now very ready to collect as Dylan also killed her husband helping her escape her cruel life with him. She comes to Rhuddin Village to ask for Dylan's help in taking over her home and claim it as her own. But she doesn't get just an army for her request...
The marriage arrangement between Luc and Rosa wasn't what anyone would expect right from the very second. Luc is still in love with his first wife and Rosa doesn't want to be tied to any man, yet the both of them understand this is the best option they have especially as Luc realized that his Alpha Wolf is having a hard time lately controlling himself when he has to lower his head to his brother's command. Though he loves his brother, if they stay this way longer things would get REALLY complicated which is actually the first reason Luc jumps on the opportunity to leave Dylan's side and getting his own place to rule.
Rosa's true fear is of a prophecy Sin (the seer born to their goddess and a human man and also Sophie's close friend) prophesied on her wedding day would come to pass so everything she does is to protect herself from that, somewhere far away the Guardians prepare themselves for this prophecy coming to claim her as their own especially the ruling Guardian who is a sick bastard! Merin - Dylan, Ellen and Luc's mother has an appearance as well. In the previous one we learnt that she doesn't hate her children but she has her reasons to act as if she does. There are still things that remains to be revealed yet I loved seeing her POV on things that happened and how tormented she is over her actions all those years and naturally her desire for revenge.
The final battle had a certain element I disliked. I don't want to say what it was because that would be a HUGE spoiler. I'll just say that I wish it would have played out differently though I understand the reasoning of Jan on the matter.
We read a bit of Koko's journal (Luc's ex wife) so we come to know a little of their relationship and her view of it. It was really heartbreaking seeing the hold she still has on him and how hard it is for him to let her go even as he realizes he loved Rosa. The final scene between Roas and Luc was just beautiful beyond words.
Also there's a little bit of Sin and his struggles which was heartbreaking as well. Poor guy just wants to help his friends and not make a HUGE mess of everyone's life but he keeps doing that against his will!
The final chapter is a small glimpse into the next book which I've already said I can't wait to read!
I LOVED the scenes of Ellen and Cormack in this book. I was heart broken anytime there was any meeting or avoided meeting between them. Ellen, like all Jan's main heroines is another strong woman who can handle herself VERY well. Yet she is confused in her own way and I believe her book will bring her closer to understanding the power she possesses and naturally we'll get her and Cormack's love story which I'm sure would be heart crushing! I love him to pieces and reading of his struggles with being human after years being trapped in a wolf form just clenches my heart every time.
This book and series in general is AMAZING and a MUST READ for all Paranormal Romance readers and especially for shifters lovers (which by the way - I'm actually not!)
Additional Details: Kindle Ebook, 304 pages, 2-3 October 2014 / On GoodReads
ABOUT THIS SERIES

Celtic Wolves
Paranormal Shifters/Werewolves series by
Jan DeLima
.
Books:
1. Celtic Moon (Dylan & Sophie) (Published 24 September 2013) ★★★★★
2. Summer Moon (Luc & Rosa) (Published 30 September 2014)
★★★★★
3. Autumn Moon (Elen & Cormack) (Published 29 September 2015)
★★★★★