This anthology contains 3 previously released short Historical Romance novellas. I enjoyed all three but gotta say, loved BEST the third one (which was actually Historical PNR). I loved the feel of all of them. They felt timeless really.
When Love Walked In
★★★★★
Short and sweet. Near Valentine's day, Private Investigator Bruce Shannon is missing a secretary but not willing to admit he is missing a special person for himself. When he finds Jace Scarret sleeping on the stair in front of his apartment he surprises himself when he first offers him a place to sleep for a night and in the morning a job as his new secretary/helper. It turns out to more even though Jace's past came knocking.
I liked the interaction between the two, it was very sweet and endearing though it was very short and quite "preliminary" romance with barely a kiss to promise us so much more between the two. I can totally see it working between them :)
In His Corner
★★★★★
Eli left Jessie "the Demon" Dalton 5 years ago when the heavyweight boxing champion broke his heart. Jessie was at his lowest and made the decision of pushing Eli away. Now Eli comes back when Jessie needs a cornerman but he intends on much more. Being Jessie's cornerman, believing in him, is even more than Jessie expected and he soon realizes Eli is all he wants lucky it's all Eli wants as well.
Believe Me, Beloved
★★★★★
Third one 's the charm! I LOVED this one. It's actually not just Historical, but also PNR (unlike the other two). It was SO engaging, I devoured it! Robert Bradley dreams of singing in the radio station he works in, but he only works in the post office.. His biggest dream is getting the owner of the station Gabriel Chase to actually HEAR him sing! He believes he'll get the opportunity once another worker (a famous one) invites him to Gabriel's home to a special party. But while Robert is sweet and innocent, THAT couldn't be said both of the one who invited him and not of the man he has secretly admired for a few years now. But it seems Robert's attraction isn't one sided, Gabriel was trying VERY hard to put aside his feelings for Robert though they were growing each day. But once he realizes the danger Robert is in, he'll do his best to protect him and maybe finally claim him as his own. Robert and Gabriel were a JOY to read. I loved how even though Gabriel as the more confident one, Robert at times naive and shy, he was still sure of himself and knew who he was and what he wanted and Gabriel was willing to give him anything he wanted. BEAUTIFUL!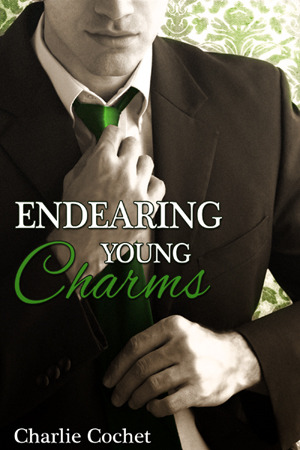 Endearing Young Charms
★★★★
This one is
free online read
of Jace and Bruce from "When Love Walked In". Bruce and Jace are still working and living together. On Patrick's Day Jace is intended on doing the expenses while Bruce have his own idea of them having a good time... This was merely a scene of the two, it was sweet but quite short to form a real feel of them as a couple.
| | | | | | | | | | |
| --- | --- | --- | --- | --- | --- | --- | --- | --- | --- |
| | | | | | | | | | |