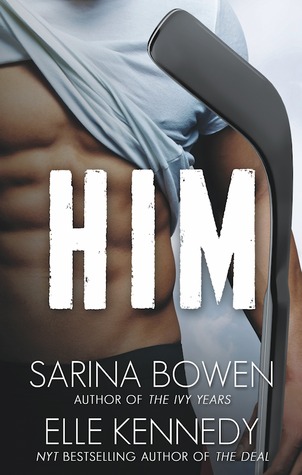 Outstanding. Some books you just KNOW are going to be GREAT and this one was exactly that. I recently read Elle Kennedy's "Off-Campus" series and LOVED it, and well, I'm already obsessively addicted to Sarina Bowen's writing. What could go wrong - NOTHING. This book was PERfection. Loved both MC, the development, the romance but before that, the friendship turning into love. The struggles both of them had to deal with. It was angsty for sure, my stomach was dropping all the god damn time! and yet it wasn't "too" angsty, it was taking us on a journey each of them had to take together and alone to get to where they are happy with themselves as well as one another.
Jamie Canning and Ryan "Wes" Wesley have been best friends for years, though they only see each other every year during the summer in Hockey Camp they text and send each other funny gifts to keep the connection when they can't see each other. It ends abruptly from Wes's side after one "adventurous" night together. A bet Wes is VERY sorry for making. Wes realized he was gay a while back, also realized the guy he loves is his best friend, his STRAIGHT best friend. Making a move on him was SO wrong he couldn't bare to be by his side again. When they re-meet in a Hockey games 4 years later Wes is (quite) openly gay but never attached to more than one night, and Jamie is more about convenient than real (relationship). The "reunion" isn't what Wes wanted it to be. He truly wanted to apologize to Jamie, try to explain (without saying Jamie was and still is the love of his life) so he accepts a position of coach in the same Hockey Camp he used to go where Jamie is also planning on coaching this summer.
What happens in the six weeks they spend together coaching wasn't something either one of them expected. Well, for Wes it's a chance to act upon his feeling for Jamie in the only way he can, without actually saying the words and for Jamie it's an opportunity to discover a side in himself he hasn't realized he has - being (also) attracted to men.. Both of them have their struggles. For Wes it's obvious that "fooling around" with Jamie is a BAD idea, almost worst than what happened years ago because when Jamie "remembers himself" he would leave Wes behind, heart broken. For Jamie it's a personal discovery he doesn't know how to handle. It's one thing to be attracted to a guy and even act upon it in private, but what happens outside? Also where can this "thing" with Wes can lead and for how long? When the summer is over, each have their own plan putting them far away from one another..
I don't want to write more about the plot not to spoiler, also don't what to say more about other struggles both of them face in this wonderful book. Just do yourselves a favor and grab it AS SOON AS IT'S OUT! (July 28th) It's simply amazing. If you are into New Adult MM Romance it's a DEFINITE MUST READ. I loved every minute of it. Truthfully couldn't put it down.
SO DAMN HIGHLY RECOMMENDED!
I kindly received this ARC in exchange for my honest review.
This book has a sequel! - US
Additional Details: Kindle Ebook, 276 pages, 14-15 July 2015 / On GoodReads
ABOUT THIS SERIES

This series started as a one book collaboration between Sarina Bowen and Elle Kennedy. HIM was AWESOME so it's no wonder they decided to gift us reader with US, another installment starring Wes and Jamie. 4 Years later we got a little gift in a short novella which has the most appropriate name.
This New Adult / Contemporary MM Romance has evolved into something else now - WAGs (wives and girlfriends) keeping the same scenery of hockey and HOT hockey players with more MF stories.
Books:
1. HIM [Ryan "Wes" Wesley & Jamie Canning] (Published 28 July 2015) ★
★
★
★
★
2. US [Ryan "Wes" Wesley & Jamie Canning] (Published 8 March 2016)
★
★
★½
2.5 EPIC
[Ryan "Wes" Wesley & Jamie Canning] (Published 9 February 2020)
★
★
★
★
★
☺ ☺ ☺

1. Good Boy [Jessica Canning & Blake Riley] (Published 31 January 2017)
★
★
★
★
★
2. Stay [Mattew "Matt" Eriksson & Hailey Taylor Emery] (Published 20 June 2017)
★
★
★
★
★