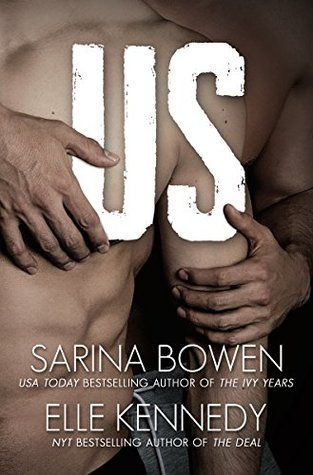 I'm not actually sure how to review this book. Thing is, it's not what I expected. As I remembered Him (the first one), even though both MC had their issues it as a fun sort of read. Yet when I re-read my review today (after finishing this one) I see it WAS very angsty but this one was a different kind of angsty maybe?
Jaime Canning and Ryan "Wes" Westley are couple for a few months now, they are living together in Toronto, Wes playing in the NHL and Jaime coaching, yet they can't out themselves as a coupe since it's Wes' first year in the NHL and it would be better (as the PR sees it..) if they can keep their relationship a secret until the year ends.
While Wes is doing great with his team, it's difficult for him to keep Jaime a secret, and yet he does it unwillingly since it had a "expiration date" and it's not that far away. Yet it's different for Jaime, he is far away from his sunny home and warm and loving family, he doesn't like or even respect the guy he coaches with and being Wes' "dirty secret" who does his dirty laundry is more than he can handle. He tries, but it's obvious he is mostly faking it (and not very well) than dealing with it. The first third of the book was actually depressing as we see their relationship falling apart, barely holding unto one another only because of their deep feelings and the fact they are unwilling to actually break up. In the first installment I remember I couldn't "chose" between Jaime and Wes on the obvious question - who I like best - but in this one it WAS obvious to me - Wes, because I couldn't stand the way Jaime acted even if I COULD get that he was in a very difficult situation. The thing they did best was TALK to one another and yet Jaime kept floating apart from Wes and after he got ill it only got worse even though now Wes did EVERYTHING he could for him.
They both had quite an emotional ride, they had a lot to deal with, not only not being able to be "out". Jaime had a lot of issues with his job, money and the feeling he is the one to handle everything needed to be done in their apartment. From Wes' side it's more about trying to be his absolute best when he is unable to get close to his teammates (because he felt shitty he was holding information from them) and also after Jaime's illness trying to patch Jaime back together and deal with the huge fallout it produces.
I had a few LOL moments, a lot of it with Blake - Wes' teammate as well as neighbor, but mostly I was depressed and wasn't sure how this is going to continue. That's the problem with writing a second installment with a formed couple, finding them in situations that are SO dire to their relationship can feel a bit overwhelming because they already dealt with enough in the past, continuing the struggle seems too much somehow, especially with how lost both of them were in this one. I would rather have a longer first installment containing about half of this one instead of getting a second installment in which there is such a shattering crisis between the MC.
I have nothing "bad" to say about this story except for the fact it was TOO emotional for me for a formed couple and the general feel of the story for almost half of it was totally desperate and even in a way hopeless. Maybe if I would have known what to expect better I would have enjoyed it more. So keep that in mind so unlike me you are able to enjoy the ride.
Note - There's a sort of "spin-off" to these two books with a series called "WAGs". It's a New Adult MF of the other players in Wes' team.
I kindly received this ARC in exchange for my honest opinion.
This book is out TODAY and can be purchased

through

Amazon, B&N, Kobo,

iBooks
Additional Details: Kindle Ebook, 255 pages, 1-5 March 2016 / On GoodReads
ABOUT THIS SERIES

This series started as a one book collaboration between Sarina Bowen and Elle Kennedy. HIM was AWESOME so it's no wonder they decided to gift us reader with US, another installment starring Wes and Jamie. 4 Years later we got a little gift in a short novella which has the most appropriate name.
This New Adult / Contemporary MM Romance has evolved into something else now - WAGs (wives and girlfriends) keeping the same scenery of hockey and HOT hockey players with more MF stories.
Books:
1. HIM [Ryan "Wes" Wesley & Jamie Canning] (Published 28 July 2015) ★
★
★
★
★
2. US [Ryan "Wes" Wesley & Jamie Canning] (Published 8 March 2016)
★
★
★½
2.5 EPIC
[Ryan "Wes" Wesley & Jamie Canning] (Published 9 February 2020)
★
★
★
★
★
☺ ☺ ☺

1. Good Boy [Jessica Canning & Blake Riley] (Published 31 January 2017)
★
★
★
★
★
2. Stay [Mattew "Matt" Eriksson & Hailey Taylor Emery] (Published 20 June 2017)
★
★
★
★
★