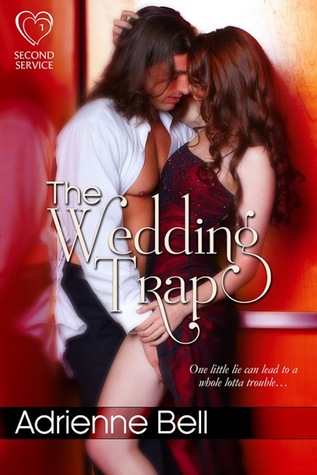 Such a sweet novella! had a great time reading this one. It was short but somehow it was a well developed love story. So much was happening you could kinda forget that the whole novella (and the love story) lasted about 3 days.
I admit I was a bit surprised when the L word was said, after all, 3 days. But you know what? with all the action and the drama I think it was kinda fitting.
Beth is attending her best friend -Isabel - wedding. After her bad break up with the brother of Isabel's soon to be husband, Beth decided to call the "big guns" - use "Charlie" her invented lover who naturally no one has seen (except for Isabel who knows he's a fake so naturally they've "met") to show everything is just PEACHY with her, too bad she can't REALLY bring him to the wedding, ha? Well, a chance meeting with a hot guy who seems to be trying to break into her ex's car (?!) makes her "convince" him to play Charlie for 5 minutes (before he rushes over to wherever it is he suddenly needs to go..) so everyone will actually believe she HAS a boyfriend..
Too bad Alex, a CIA agent on an important job, has a slightly different idea... he needs to stay in the hotel and monitor what's going on with Isabel's uncle who might be up to "no good".. So pretending to being Charlie is the best thing that could happen to him, just not for 5 minutes.. for 3 days - till the wedding..
Beth doesn't know how to handle the Charlie she created.. she doesn't know the guy, he is HOT! but he is also a bit unpredictable and something about him feels a little off, he seems dangerous somehow though she could swear he won't hurt her (and not only because that's what he promises).
Things get out of hand when Beth sees something she shouldn't have and then shit hits the fan as they say.. but also things starts to get heated between the two of them. The whole time they spend together make them experience each other in an intense way and I could get how they grew to love each other in this short time. I also think that there was some sort of "magic" between the two of them, they had more than the instant physical appeal, it was something about the way they read each other and was aware of all the little things about each other that made their love believable. It was also great reading the story from both their POVs and not only because otherwise we would be clueless to the whole scheme, it was mostly about how they came to know and appreciate one another.
I should say that while Alex is describes as H-O-T, Beth isn't the regular hero material - the perfectly shaped woman - she is a bit curvy, a bit insecure with the way she looks and there are people who keeps reminding her of it. It's something that we start to read more of in romance novels and I really appreciate it, sounds more realistic. I loved that for Alex she was as H-O-T as she found him to be even if at first glance she isn't a beauty you hit your jaw on the ground over..
So while it's only 160 pages long you DO get a whole love story with drama and action pored into and when the story comes to an end you feel satisfied that you actually got a whole story. Yeah, I guess we could have gotten a more solid closure but I personally didn't feel I need it. Alex and Beth are prefect for one and I don't need anything more to reassure me that their relationship will work and make both of them happy (screw everyone else).
This is the first I've read of Adrienne and I'm sure going to check out more by her starting with the second book in the series r-i-g-h-t n-o-w!
Recommended!
Additional Details: Kindle Ebook, 166 pages, 27-28 October 2014 / On GoodReads
ABOUT THIS SERIES

Second Service
is a Contemporary Romance series by
Adrienne Bell
.
There are 3 short novellas in the series (of about ~150 pages) each tells the HEA of one of three men - Alex, John and Ty - who used to serve in the same Navy Seal Team. The 4th and final short novella in the series is of Alex's cousin and joins all three couples in a final shot and another short romance.
Each short novella is action packed but also funny and very engaging. While the love flourishes quite quickly when everything that's going on it's really fitting.
The main characters feel genuine, the men tough but human and VERY sexy and the woman are sweet and lovable, very believable in their traits and also in the fact that they are no beauty queens. Also, while the women deal with terror they are NOT used to, they endure it in their own way. Even when shedding tears they show toughness and capable of handling things on their own.
Recommended! [ Though I should say that I didn't really like the ending novella of Holly and Michael. ]
Books:
1. The Wedding Trap [Alex & Beth] (published 2 July 2013) ★★★★★
2. The Agent Next Door [John & Erin] (published 20 May 2014) ★★★★½
3. The Trouble with Temptation [Ty &
Morgan
] (published 27 September 2014) ★★★★★
4. The Best Man [Holly & Michael] (published 9 December 2014) ★★★