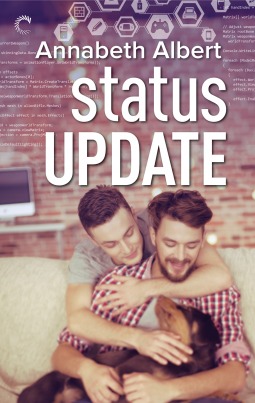 This was SO sweet and beyond that, it was such a touching story. I was waiting for Noah and Adrian to find a way to truly keep each other and I gotta tell you - it wasn't easy!
I haven't been reading lately. Too much on my mind and very little time to just relax with a book so in a way I "made" myself sit down. Didn't know what to expect because I forgot to read the synopsis and since I haven't read any book by Annabeth I was totally going blind on this one and I was just HOOKED! Realizing Noah was living in a Motorhome was such a funny surprise as I've been investigating the subject lately. I wish I could connect with Noah if only to get his input on the matter hehe
Noah have been living a very solitary and conservative life. He is a professor in a Catholic College, at the moment at a sabbatical struggling to finish an academic book. His only true connection is with his dog Ulysses. He won't admit to being lonely but he is. When Adrian sort of stumbles into his life he is the EXACT thing he needed. It's more than just companionship it's a chance at love, something he vowed to reject, living his life in solitude.
Adrian has his dream job as a programmer of a very popular online game. Yet his life is still a sort of a mess. Firstly his family sees him as a failure and his love life consists of long distance relationship which doesn't work when the distance is compressed - exactly what happened the day he meets Noah. Finally meeting his long distance boyfriend for the first time - not even a spoiler alert - it doesn't work and Adrian finds himself stranded with the cloths on his back (sans shoes) and his dog Pixel lucky Noah comes to his rescue. He is surprised himself but somehow he finds himself taking Adrian in his Motorhome to his parent's where his sister is getting married. It's just a few days of trip with a promise of an upgrade to Noah's subscription to the game..
Noah and Adrian don't bond right from the start but as they find they have so much in common its starts getting easier, or rather more complicated. Noah is gay. He has known that for years but his religious and conservative background has made him keep this part to himself, never acting upon his attraction to men. He doesn't even know what he is missing so once Adrian kisses him everything he believed about himself starts to crumble.
Adrian have been openly gay for years he has no problem with his sexual identity (or identity in general) he is who he is and that's just that (though his family disapproves.. though not about being gay.. his life choices seems to puzzle them). His attraction to Noah is not just physical it's emotional as well, they simply connect. He wants Noah but he also realizes Noah needs to want this as well, and as bad as he wants it for them to work. Yet Noah is not the kind of guy to jump into changes, especially not considering he can't keep his job AND Adrian and so decisions needs to be made. It's mostly up to Noah but also to Adrian to accept and trust Noah to make the right choice at the end.
There is so much MORE I can say about this novel. I loved every minute of it, I loved seeing these two get closer together. Considering they spend almost a week together 24/7 in one Motorhome (with two dogs) things happened quite quickly and yet it never felt rushed. It felt genuine and real and things DID progress later on when they arrived at their destination and had to say their goodbyes and return to their regular lives. The dogs were so sweet, they were truly a representation of their owners. I loved that. I loved how realistic both guys felt to me, each struggling with finding the man to share their lives with. They truly completed one another. It was beautiful and heart warming to read though at times it was heart breaking as well.
HIGHLY recommend you read this one. I'm ready to delve into the next ones ASAP.
| | | | | | | | | | | |
| --- | --- | --- | --- | --- | --- | --- | --- | --- | --- | --- |
| | | | | | | | | | | |