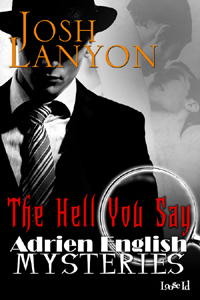 I wasn't that impressed that with this one. As with the previous one, the plot wasn't that engaging, though you would think a story with Satanic ritual would hold me better.. and yet it didn't. I was overly annoyed with the (none) romantic side to this story as well..
Jake and Adrien are falling apart, Jake wants his HEA with a woman and his kids more than he is willing to have the man he obviously loves so he makes quite a lot of disgusting mistakes but the one I was truly annoyed with was Adrien. HOW can I blame Jake when Adrien is the one enabling Jake to act the way he does? I mean, he is the "side thing", apparently Adrien KNOWS that Jake is ALSO dating a woman and things are getting more serious with her. Besides that being immoral IMO, it also shows he has no self respect! Yeah I understand he loved Jake and wants more, but more isn't coming, it's the other way around.. Less and less is coming, as long as he is there twice a week for Jake, Jake has no reason to leave the woman he is seeing or change his ways.. :/
The mystery starts with Angus (Adrien's worker) getting mixed with a Satanic cult, and naturally it also means Adrien get mixed in it too, finding himself (almost) accused of murder (as usual?) and being threatened in a very realistic way, especially since there are ritualistic killings and bodies being found in the city.. Adrien finds his help from Guy, a professor Angus works for as well. Guy is openly gay and also openly interested in Adrien, but Adrien isn't emotionally available because of Jake and the compatibility of their so called relationship..
There was a sweet sup plot with Lisa and what she is "up to", that one I actually enjoyed, the young women were fun to read. I hope we'll get more of them in the future.
I gotta say that though I REALLY enjoy reading Josh's witty writing, I'm not THAT excited about the next two installments.. There is something lacking and not only the romance, I don't feel a "grip" to the mystery and overall plot. I'm annoyed with the romance which makes this one not more than an "okay read".
I'm writing this review in a CASTLE, I'm on holiday in Germany and this place is more cool that I can express! The views and general feel of the whole area I'm in is peaceful and PERFECT. I wish I could live in a place like this, even if not actually in a Castle hehe
Additional Details: Kindle Ebook, 272 pages, 20-23 October 2015 / On GoodReads