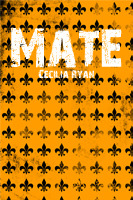 Sweet, extremely short scene between Logan and Richard. Logan acting up his Halloween costume - a wolf. It was sweet and sexy and even though it was short and had a sex scene in it, I could actually feel the connection / real relationship between the too.
It's the third novella I"ve read by Cecilia and I have no doubt I'll love all her other novellas. Truly hope she'll publish more! (I can see an addiction forming ;))
This novella can be downloaded through its book's GoodReads page (linked bellow).
Just this morning someone shared this uber sweet video on one of my Facebook group. After reading this one, I could see these two in it (though in the video there is a "real" wolf ;))
Additional Details: Kindle Ebook, 10 pages, 5 June 2015 / On GoodReads