While I had a lot planned for December it seems I read even more that I expected. Well, you know, cold outside, not feeling like doing anything out of the house anyway (not that it's THAT cold here actually) and I WAS on a relaxed holiday for a few days at the beginning of the month. All in all, when I think about December I think it was a really good month not just my reading, but in general. Vocation, relaxed days at home, going out with friends and even went out on (not so successful) date, had a double dog show for both my dogs (they are different breeds) and even handled/showed them myself (I"m not the best of runners to say the least) but it all went extremely well and we all had a great time on the show.
Favorite Book of the Month: Coming In From the Cold By Sarina Bowen
Another great book by Sarina. After reading and really enjoying her Ivy Years New Adult series it was a totally natural thing to continue to her Contemporary Romance Series Gravity. The first installment was great! I loved both main characters, they felt very real, their relationship was building beautifully and the difficult emotions they both had to handle were dealt beautifully. This book could have been categorized under a lot of known plots in romance - the rich/poor or famous/common, the sick and the healer, the one night stand leading to a relationship when no one expected it to, yet with all the cliches it COULD have fallen under, this novel delivers a beautiful and sensitive story about Dane living under borrowed time finally meets the women he could dream his future with while knowing it's desperate to fail - badly, as his family's past showed. Willow, the hopeless romantic - always wanting to see the positive in people, believing in them even if they let her down time and again - can't let go of Dane even when everyone else would have turned their backs and walked away. Can't wait for the second installment to be out! (supposedly February 2015).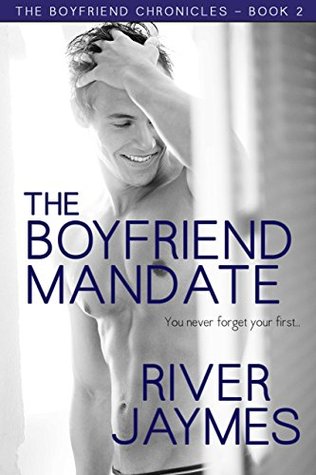 Before I delved into the second (and LONG AWAITED) installment in the Boyfriend Chronicles i tried River's debut short novella and REALLY enjoyed it. It's not easy writing a short story and really delivering a WHOLE story. I had quite a few short novellas on my list this month and most of them were somehow disappointing. This one was short yet very real and emotional and even though it handles things I usually dislike the sensitivity of the story was absolutely beautiful.
Then came the "The Boyfriend Mandate" which I absolutely LOVED. After reading the first novel in the series I KNEW I want to read of Tyler's HEA even if at first when I read "The Backup Boyfriend" I couldn't stand him, then I started realizing that there is much more to him than being the mean guy who broke up with his long time boyfriend and partner. Tyler and Memphis has to deal with quite a lot in this story, both their past - Memphis being Tyler's "Mythological Ex" as well as the present with what it holds (being able to be with each other) and what it doesn't hold (staying together). I"m really hooked to River. Right now she is on my auto-pre-order-read-the-day-the-book-is-out-right-when-I-get-back-from-work. Yeah, that's a legitimate state :)
It's interesting that there's is some sort of a similar theme between Sarina's "Coming In From The Cold" and River's "The Boyfriend Mandate" - both deal with a difficult illness. It's different in a lot of other aspects (besides being FM / MM) but the desperation of not being able to KNOW how you end up and the fact both Memphis (The Boyfriend Mandate) and Dane (Coming In From the Cold) choose a "day job" that is highly risky shows how both try to defy what life have/has in store for them. They are both fighters even if there is a sort of desperation when they look into the future. For both of them their HEA is a sort of a mental cure
Tyler (The Boyfriend Mandate) and Willow (Coming From the Cold) bring into their lives happiness and hope they didn't believe they could have.
Discovery of the Month: Protection By T. Baggins (Reid S.A.)
This one was a total WOW for me on so many levels. Before we get to the plot, the characters, the writing, I'll just throw the fact that I was left speechless and in tears when this one was over. I can't say it NEVER happens but lets say that from the 180 books I've read this year - only several left me in tears and NONE and generally NOTHING leaves me speechless (though a lot of people wish things would ;)).
Gabriel and Joey meet in jail. To say the least their first encounter ISN'T a positive one. From there it seems impossible for Joey to even like Gabriel, yet as their relationship build up (reluctantly from Joey's side) they fall for each other. Being together is not a real option, and if it is, it seems it's for borrowed time - Gabriel serving two life sentences and Joey "only one" but it's difficult not to hope for the best when they are together. I loved how real both characters felt, the way the prison was described and the way the author brought these two together - Absolutely beautiful and yet brutal nevertheless. I'll be visiting more by Baggins - SOON!
I feel kind of bad to write this book here when I didn't even finish 10% of the book. But I guess it's here for this exact reason! While I REALLY enjoyed the previous ones in the series giving them high rating (mostly 4-5 stars) feeling it's a chore to read from almost the first page was BEYOND disappointing. Torin changed into something that I wasn't enjoying reading and the main heroine behaved like a homicidal Teenager. I struggled with every sentence coming of their mouths and even more with their inner thoughts. I thought about listening to the audiobook since I might want to continue the series when the next one is out and naturally beside's Torin and Keleey's story there is a lot going on in the general plot of the series but I couldn't be bothered doing it.. I think I MIGHT do it close to the time the next book is out, see if I even want to read it.. we'll see. For me, it just destroyed the series in a heartbeat. From a series for adults it became something very strange and unlike any of the books in the series. Yeah, Anya can be a bit childish and so does the Harpies but not THAT childish. God. I'm getting annoyed just thinking about it. Goodbye lords for now. It's been fun.. so sad it isn't anymore.
Fun Break of the Month: Risky Maneuvers By Aleksandr Voinov & Barbara Sheridan
While this was not a 5 star review it was an entertaining short novella. The characters were interesting, the romance between them (a re-kindling of their prior relationship) was sweet and the plot while strange (aliens!) somehow took the backstage to the romance.
I've been wanting to read more by Aleksandr for a while now, I'll be getting to it though it would take time as he wrote A LOT.
Considering what I wrote above about "Protection" I should say that "Special Forces" by Aleksandr left me in a similar state in a few occasions yet the drama and romance there spread on MANY MORE pages.

The place of Faith, Love & Devotion by Tere Michaels and Darkest London by Kristen Callihan should have been PROMISED by how much I enjoyed both series. While they are very different there had one aspect in common - a disappointment from another book by the author. With Kristen it was a bet as the other series was a New Adult (not Historical Paranormal Romance) and though I really enjoy NA in general since the whole feel of the book was different as day from night from the Darkest London I went lost and mostly got bored. With Tere I tried a short novella. As I've already said somewhere above, a good short novella isn't so easy to come by / to write yet I expected more from Tere and was disappointed from what I got, not to mention with how much it was difficult to put Faith, Love and Devotion down, the novella wasn't very catching.
But though I'm writing these lines, I'm going to give both Tere and Kristen more chances to prove me wrong, or rather to prove me RIGHT! I will try out more by them before I "pass my judgment" especially because what they delivered before was absolutely AMAZING! Amazing isn't always easy to come by / create :)
Hope you enjoyed reading my recap and remembering what this month was about. Since this IS December I'll also be making a Yearly Recap which I'm really excited about :)