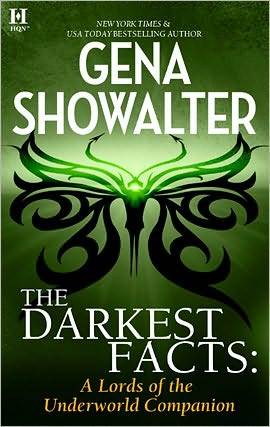 This is an awesome idea. Really happy I got my hand on it. You know how it is with these kind of Paranormal Series, after a while you kinda forgot what was "that guy's" problem, or who was his love interest, or maybe what was his special ability / curse etc. After ten (and more) books it meshes in together, especially as most of us read more that one Paranormal series and all the characters get mixed up in our head... So having this guild helps put order in our head especially when there's a new book out and you want to remind yourself of some details before or during a read (that was probably a year away from the previous one).
This is why I made the "Series Pages" in my blog actually.. I realized that I forgot too many details as time goes by. So as I was building the Series Page for the Lords of the Underworld I used this guild to add up all the important details about each of the Lords.
I'm not sure why I didn't write my review of this one after I read it (and build the series page) must have slipped my mind with all the writing I did for the blog but well, I'm getting to it now! Especially since next I'll be reading "The Darkest Touch" - Torin's (long awaited!!!) book.
I got this book in a compilation with 2 short novellas in the series - The Darkest Fire & The Darkest Prison - called "Into the Dark" but now you can also buy each one of those separately. The book contains an interview between Gena and Kresley Cole, a LOT of information about each and every Lord, Gena explaining how she got started with this series, interviews with the Lords, chit-chat with the women beside the Lords, FAQ, missing demons from Pandora's Box and a general glossary of characters and terms.
Really a great and informative but also fun guild, recommended to the series junkies (like me :))
Additional Details: Kindle Ebook, 186 pages, 2014 / On GoodReads