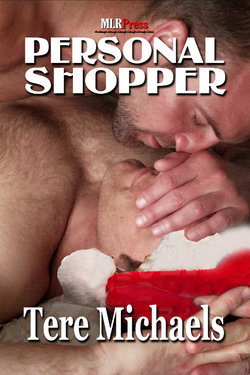 I'll start by saying I don't like the cover, not sure really why but I SHOULD say it has something to do with the fact that I've already read a short novella (an okay one) with this cover.. Then I discovered another one! (all 3 by MLR Press). I don't get why use the same cover several times.. After I got THAT out of my system - since I just finished the Faith, Love & Devotion series and LOVED it -it was obvious I would try more of Tere's books - this was my first try.
I had a REAL struggle with this one. I started reading it, fell asleep TWICE before I decided to put it down at 36%. Then I moved on to the next novella I had on my list and finished it (a bit disappointed) I went to sleep only to wake up at about 3 am feeling bad I didn't give it enough of a chance. I felt Tere deserved I finished before I pass my judgement and since I couldn't fall back asleep I gave it my full attention and finished it.
I can't say that finishing this novella made it better, I've recently realized that if I don't like a certain novel at about 30% it won't get better, or if it would, not enough to make it worth my time bitching to myself why the hell I'm wasting my time reading something I don't really feel like reading while I have an ENDLESS list of books to read, probably better. So I guess what I'm trying to say is while I initially wanted to give this one 2½ stars I'm going with 3 stars and that only because of a certain twist near the end that made this novella more "real" somehow (though at the same time it became totally UNreal.. hard to explain without spoilering THE HELL out of this one).
The novella is told from Will's POV. I didn't like Will at all, I'm not even sure why, but he was just so plain and uninteresting I couldn't be bothered with his opinion about anything and everything and wasn't very impressed with how much he was turned on by Hudson (and also felt the need to express his attraction to him all the time..). So back to the plot.. Will's twin sister calls him 2 days before Christmas to ask him to organize a nice dinner for the family including her new soon to be husband and his disapproving parents. Since they are filthy rich he should make it "extra nice".
Will might be gay but he isn't the Martha Stuart gay.. he is just a guy that has NO IDEA how to handle this bomb that fell on him while he is trying (not very successfully) to finish the book he is writing with killing off the main hero as his fans (and editor) demand...
On his first stop to buy Christmas presents he stumbles upon Hudson, a British hunk with an impeccable taste. Hudson offers Will to help him out with the shopping and organizing since he has too days off till he flies back to his family abroad. Hudson was a nice enough guy, I could have liked him but somehow the way he took over everything felt a bit, well, odd.. also his being filthy rich himself made it quite surprising he could do so much around the house, including cooking (when he admitted he lives out of restaurants and takeaways most of the year).
Close to the ending of the novella we finally meet the family and while we do there is also some sort of a twist (which I guess is quite predictable..) yet the way things end is SO unreal and so, I don't know, STRANGE, that I didn't know how to react to it.. Yeah it was a happy ending but in a way it wasn't something that made any real sense.. It reminded me a little of the second installment of Faith, Love & Devotion (Jim and Griffin's novel) but made in a less reasonable way..
I'm giving this one 3 stars but I think it's quite generous, maybe too generous considering the struggle I had to finish. It won't discourage me from trying more of Tere books though.. I loved Faith, Love & Devotion and I truly consider this one a "bad fluke" (even if I haven't a clue if it is..).
Additional Details: Kindle Ebook, 86 pages, 23 December 2014 / On GoodReads