After October's reads I feel quite ambitious! So here is what I plan on delving into this November -
The Minaldi Legacy
[ Of Blood and Bones
★
/ Of Darkness and Demons ]
By Courtney Cole
I got great recommendation to Courtney's books so I'm starting this month with this book or rather, two books.
When We Met
★★★★
By Christina Lee, A.L. Jackson, Molly McAdams, Tiffany King
While I don't know three out of the four authors in this Anthology, I DO know Christina and since I plan on reading anything she published this book have been on my list for FOREVER and it's finally going to be out in the 4th of November. Can't wait!
If You Stay (Beautifully Broken, #1)
★★★★★
If You Leave (Beautifully Broken, #2) ★★
½ (DNF 72%)
Until We Burn
(Beautifully Broken, #2.5)
Before We Fall
(Beautifully Broken, #3)
Until We Fly
(Beautifully Broken, #4)
By Courtney Cole
Another series I got great recommendation of and since I starting this month with The Minaldi Legacy I thought I should also check out this one.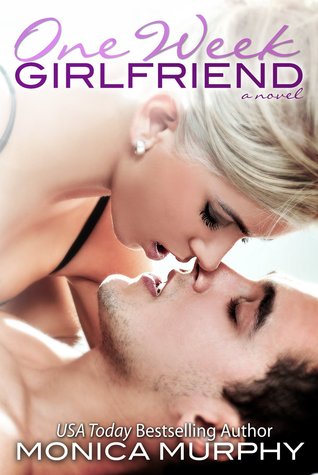 One Week Girlfriend (One Week Girlfriend Quartet, #1)
★★★★★
Second Chance Boyfriend
(
One Week Girlfriend Quartet
, #2) ★★★
½ to ****
Three Broken Promises
(
One Week Girlfriend Quartet
, #3)
★ (
DNF 40%)
Drew + Fable Forever
(
One Week Girlfriend Quartet
, #3.5) ★ (
DNF 35%)
Four Years Later
(
One Week Girlfriend Quartet
, #4) ★ (
DNF 23%)
By Monica Murphy
I've read Christina Lee's review of this one and it spiked my interest. I LOVE Christina's books so naturally I'm interested to read what she recommends.
Cherish (Covet, #1.5)
★★★★★
By Tracey Gravis-Graves
While I got this one the second it was out I have more books planned before I sit down and read this one which is a short novella telling us of Daniel from Covet. If you haven't read Covet or On The Island by Tracey firstly - shame on you! second - grab it and read it!
Beyond Possession (Beyond, #5.5)
★★★★★
By Kit Rocha
Beyond is an excellent Dystopian Erotica series which like wine getts better with each installment, can't wait to read this one!
My Haunted Blender's Gay Love Affair, and Other Twisted Tales
★★★
By Abigail Roux, Anne Tenino, Andrea Speed
I stumbled into this one totally by mistake but since I was looking for more by Anne Tenino it was "right on time" and also it features Abigail roux which I haven't read for a while and I"m interested in seeing what more she writes (besides "Cut & Run"). Of Andrea I've never heard before which is a great opportunity to get to know :)
I'm not sure I'll get to read ALL of these, especially the last one which might be a little too much for one month with "only" 30 days and more to do than just read ;)
Happy reading everyone!