September I actually read more than I have planned which is AWESOME! Firstly, naturally, because I love reading and secondly because I got to know a really amazing author this month through a "random read" (read a recommendation and found the time to read it almost right away).
Since I'm a bit crazy with the organizing staff and since I KNOW what I'll be reading till the end of 2014, I decided on a new system for 2015, planning a "reasonable" reading list but keeping it a bit lower than my usual amount so every month I get to add at least one book at random either from my general reading list or a recommendation I just got and really excited about checking.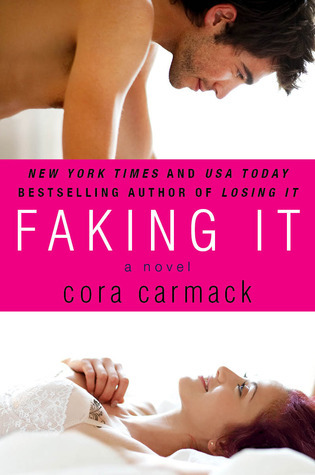 Took me too damn long to get back to this series, while the first one was really good and really funny (!) the following novella was quite weak which let to a delay I shouldn't have gone through since the second one in the series was THE BOMB! Funny as hell, but also sensitive and sweet. Highly recommended New Adult novel even if you haven't read the previous one and just want to read it as a stand alone.
I actually finished all the books in the series this month and I think this is also the best book in the series but I DO recommend all of them. Check out the Series Page.
This series wasn't something I planned on reading (as I wrote above). I read a recommendation of the third book by one of my absolute favorite authors - Christina Lee. She probably read this one as an ARC since it was just released on the 29th of September. Since I hate starting on a series from the middle/end and since I was ahead of my reading I decided to add the whole series to this month's reading list. Which was a REALLY good decision! The whole series is AMAZING. Beautifully written, sensitive but not overly done, very "real", very positive even when shit hit's the fan. While the first two books as well as the short novella tells us of M/F romance, the third one is an M/M romance and even though it's hard for me to pick my favorite one I think it was the best of the bunch. Maybe because the M/M concept made it more touching, I'm not sure, though the first one was also beautifully done with a paralized Heroine dealing with her situation. Hell, I DON'T KNOW all of them were amazing and I also added another one by Sarina which I hope I'll find time to read really soon! I think she is going to become an instant buy kinda author.
I recieved many recommendation of this book and sadly it turned out as a DNF for me. It's really slow going and after about a quarter of the book I just decided to let it go.. I heard it would get better about half way in but I wasn't patient enough to continue..
I should say it was hard picking up the Disappointment of the month since I had two other DNFs and one that I gave two stars for being quite weak but I think since this one I was excited to delve into with all the recommendations was the one that disappointed me the most. I guess I'm getting used to the DNF concept, I don't like leaving a book behind unfinished but if it means I have more time for books I actually REALLY enjoy that it's worth the annoyance..
I should say that I had two "light" disappointment with "Beyond Addiction" by Kit Rocha and "The Beautiful Ashes" by Jeaniene Frost, both of them I gave 3 stars. I wanted both of them to be "more" and sadly they were just an "OK read".
I think I have about two more books I haven't read by Meg (have a ton under her other name though..) and each one of them is really enjoyable. I don't think any of them are brilliant beyond words, most of them are just a joy to read and are just the fun break we tend to need one in a while. This is the prefect book to read on vocation or when you're in a dire need for one because the main Heroine is on an amazing location on her Honeymoon. Beautiful beaches, amazing blue sea and a YUM hero. What more can one ask? Yeah, a sweet love story that leaves you with a smile on your face. You have that as well :)
That's it for September 2014 Recap, hope you enjoyed! I know I really enjoyed this month's reading though I had my disappointment I had some amazing reads and I can't wait to start on my October reading list, I have many I'm anxious to get my hands on.
I know I will since I just turned 33 on the first of October! :)