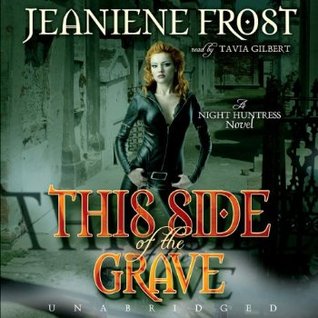 Well, I liked this book, but didn't LOVE it. It's kinda hard for me to explain why. On the one hand, I DID think that Cat grown up in this one, learnt to trust herself, trust Bones, learnt to appreciate the people around her (even had a sort of a "heart to heart" with Mencheres). But it felt in a way, all over the place.
The main "objective" in this book is dealing with Apollyon the Ghoul. If you remember from the previous book, Apollyon says that Cat is trying to become this Mega Vampire Ghoul combination bent on world domination.. There is a reference to Masterless Vampires being killed by Ghouls which is Apollyon's way of trying to start a war between the two species.
I didn't feel there was a real organized plotline considering their war with Apollyon, it was them basically dealing with "small fires" most of the book until Cat realizes what she has to do and then 4 (not that long) chapters later - The End. I don't know, it's like we didn't even FEEL that Apollyon was a rival / threat.
There IS some interesting staff going on between Cat and Marie Laveau but there, too. I would have liked for Cat to show her worth a little bit more.
There were emotional staff going on as well, but for some reason I felt like Cat is turning into this over emotional, love sick girl. Her attraction to Bones' body was a quite over the top.. and her emotional speeches (both "live" and in her mind) were quite tiring. We DID have a great sex scene with Cat taking the lead which was nice for a change. But all in all, though she shows maturity in right about anything she does, it's like she matured into this sappy emotional woman taken from the corniest romance novel. At least she remembers how to fight like her old self!
I had my fun with Vlad, Mencheres and Kira. We got insight into Marie Laveau's past and present scheming. This is one HELL of a strong and manipulative woman, er, Ghoul.
One last thing, I also felt like Tavia, the Narrator did a too good a job in this one. On the one hand I liked that I could FEEL what the character was going through in her voice, but it was a little bit too much somehow. Also I don't like Bones' voice, I really would like him to sound more masculine. Before I heard her version of the other men - Ian and Charles especially (since they, too, are British) I didn't mind THAT much, but knowing she can do better kind of makes me sad that she didn't give Bones more powerful substance through his voice.
Not my favorite book, especially after enjoying myself so much in the outside books of Mencheres and Kira / Charles and Denise. I think that both Kira and Denise are somehow more appealing to me as woman characters (even if they are less bad ass). I also really enjoyed hearing someone else beside the woman narration. Charles and Mencheres' voices gave a lot to their story.
One more book before I delve into Vlad's spin off trilogy! I'm really excited about that! oh Vlad... ~sigh~
Additional Details: Audiobook, 9:28 Hours, 11-13 August 2014 / On GoodReads